Nike Presents the 2022 Doernbecher Freestyle XVII Collection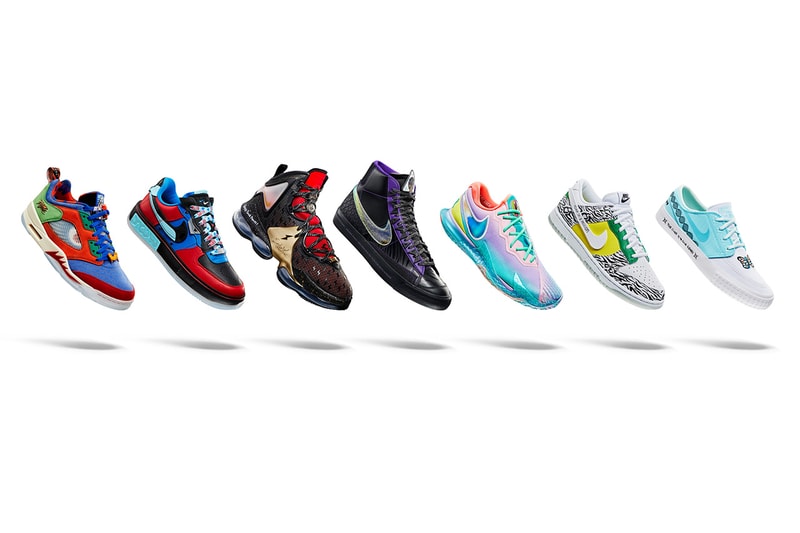 Since 2004, Nike and the OHSU Doernbecher Children's Hospital in Portland, Oregon have joined hands for its annual Doernbecher Freestyle program — a charity-focused initiative that has raised over $30 million USD and granted over 100 patients the opportunity to design their own kicks.
Catalina Vazquez, Zoe Taaffe, Cidni O'Brie, Maylee Phelps, David Phelps, Ayman Wamala and Michael Wilson are the seven young designers who have been tapped for the initiative's 17th collection, and it's through their own respective installments that they showcase their imaginative design qualities and shine a light on their personal life stories, medical journeys and personal interests. This year's collection involves footwear silhouettes and apparel pieces that span across the lifestyle and performance categories from both Nike and Jordan Brand.
Nike SB Stefan Janoski by Catalina Vazquez
Three days after Catalina Vazquez was born, she was diagnosed with Von Hippel-Lindau disease, a rare hereditary condition that causes tumors to grow in multiple organs throughout the body. To represent her fight, she adds a DNA helix along the sides of her shoes as well as across the outsoles. She also dreams of vacationing to the Galapagos Islands so she can one day immerse herself in its beautiful nature scene. This affinity for wildlife along with the concept of metamorphosis serves as the foundations for her design. "I've gone through a lot of changes, so I'm kind of like a butterfly," she says about her life, and so this is why she implements silhouettes of the gorgeous insect across the tongues and toe boxes of her Nike SB Stefan Janoskis and her accompanying hoodie and backpack. Additional touches include her own moniker on the tongues as well as the "The cure is in our genes" — an inspiring phrase from VHL Alliance — across the midsoles.
Nike Dunk Low by Zoe Taaffe
When Zoe was a sophomore in high school, she was diagnosed with an autoimmune disease that causes severe inflammation of the blood vessels. The condition is so rare that only one out of 1.2 million pediatric patients have it. Despite her condition and all of the grueling plasma transfusions, steroids and chemotherapy to keep her stable, her positivity and never-say-die mentality has given her hope and strength. On her adventurous Nike Dunk Lows, she nods to the Oregon Ducks – her favorite sports team — by utilizing green and yellow accents. Additionally, she plasters zebra-like stripes atop the Swooshes and overlays, all of which represent the stretch marks that the steroids created on Zoe's body and are designed to spell out her name in various sections. "I never really knew much about being in a hospital until OHSU Doernbecher and now I feel like I have an even bigger family" she says. "There's not a lot you can do to give back to your doctors and nurses after they saved your life, nothing measures to that, and this is just one way that I can give back to the hospital make sure that they know that they're appreciated and that we love them for everything that they do."
Nike Air Force 1 Fontanka by Cidni O'Brien
Four years ago, Cidni O'Brien was playing soccer and started to feel a strange pain in her chest that caused her to be admitted to the hospital. After being examined by medical experts, she was diagnosed with an anomalous aortic origin of the left coronary artery, meaning that a critical artery that feeds blood to her heart was attached in the wrong place and Cidni's heart wasn't receiving enough oxygen. After undergoing a major heart surgery, she was thankfully able to recover and get back on the pitch and compete with her Lebanon Warriors high school team. Her Air Force 1 Fontanka is a tribute to her soccer squad as well as all of the animals that she holds close to her heart. Peep the laces and you'll find the names of Tito her parrot, Basco her donkey, Cheez-its, Thober and Jonathan her goats, Carol Bask-hen her chieckn, Copper her dog and SwimShady her fish printed atop the laces. Her horse Tank is paste to the left sock liner while Nikki — her mother — gets a shout out on the right side. "I got Tank because I didn't know if I'd ever play soccer again, and he really helped cheer me up," Cidni explained. "And my mom is my hero. I wouldn't be here without her." Other striking details include the outsoles which have been decorated with shrimp pasta to nod to her favorite food as well as the heels which feature soccer-inspired overlays, her name and metallic heart embellishments.
NikeCourt Zoom Vapor Cage 4 by Maylee Phelps
15 year-old Maylee Phelps was born with spina bifida, a condition where the spine and spinal cord fail to develop properly. Don't be fooled by her current state as she is an accomplished junior wheelchair tennis player that's ranked #11 in the world. For this Doernbecher initiative, she elected to design her own Air Zoom Vapor Cage 4, and it's replete with personal elements and vivid color-blocking. Hand-drawn stars and marbled treading are done up ini her favorite colors and spine graphics and a blue spina bifida ribbon grace the iridescent tongues and heels to raise awareness for adaptive athletics. Her initials also arrive under the tennis silhouettes on the tongues as well as on the lateral heels. Midsoles are devised with a reminder for you to keep pushing no matter what obstacles life tries to throw at you. "That phrase helps keep me motivated on the court and in life," Maylee said. "I thought it might help other people, too."
Nike LeBron 19 by Sam David Phelps
Like his sister, Sam David Phelps was also diagnosed with spina bifida, but that hasn't slowed him down from becoming a beast on the hardwood. He has aspirations to one day suit up for the Portland WheelBlazers and his favorite baller is LeBron James, and so it's only fitting that he chose a Nike LeBron 19 to design to his liking. Sam adds a plethora of striking details on the six-time champion's signature model such as metallic gold panels, lightning bolts to represent his quickness on the court as well as his own sporty wheelchair insignia. His initial, birth year and go-to mantra "Never Back Down" are also positioned on the airbag pods down below. "I want to inspire people to never quit on their dreams," he said. "If you set your mind to it, there's no limit to what you can do."
,
Nike Blazer Mid '77 by Ayman Wamala
Ayman Wamala is no stranger to adversity as he was diagnosed with sickle cell anemia at an early age. However, he possesses an unwavering drive to overcome the hurdles that life presents him with, and to do it with a superhero mentality. Ayman gravitated towards the Nike Blazer Mid for this year's Doernbecher capsule, and he spruced up the lifestyle silhouette to represent his alter-ego: a mind-reading character that you'll find on the tongues. A Black Panther-esque black and purple palette is applied to the kicks, and they come accessorized with triangular panels that are symbolic of protective armor as well as tiger stripes that glow with a blue hue when exposed to UV light. Additionally, the bottoms of the kicks appear with red blood cell-inspired patterns to mirror hi s condition. Nike also crafted a special zip up jacket and cap that also sport elements from the shoes. "When people see my shoes I want them to feel happy," Ayman says. "If someone is going through something and they see this quote "Life is uncertain…be quick to act…make tough decisions in worst-case scenarios" it can help them too."
Air Jordan 5 Low by Michael Wilson
Just two months after Michael "Spitfire Wilson born, he was diagnosed with a rare genetic condition that destroys the protective coating of nerve cells in the brand and nervous system called Krabbe disease. The doctors were able to catch it early life and thus were able to supply him with treatment immediately by giving him a life-saving stem-cell cord blood transplant. Today, Michael lives a healthy and happy life and has passions for airplanes, sharks and mac 'n' cheese, and he implements all of these elements into his eccentric Air Jordan 5 Low design. Mac 'n' cheese graphics are lasered throughout the suede base layer and are seated adjacent to vicious sharks across the side panels. Tongue patches are interchangeable so you can personalize the kicks in your own style and the kicks are bolstered with "eject" loops on the heel tab whenever you want to slip them off. "Sometimes when I get really down, I imagine flying through the air, dunking the basketball and winning the ultimate championship like Michael Jordan did," Michael said about his sneakers. "When people see those words, I want it to make them feel powerful like me. Take flight badges are pasted to the lateral heels, and the rear end is fitted with Michael's initials for extra flair.
OHSU's virtual livestream and official unveiling of the announcement is available here. An eBay auction for the collection will be live from February 26 at 4pm PDT to March 5 at 4pm PDT. After that, the products will hit retail during Spring 2022.
In other news, the UNDERCOVER x Nike Dunk High 1985 "Chaos/Balance" in "White" has been unveiled.
Click here to view full gallery at HYPEBEAST
New Balance Equips the 1600 in Ivory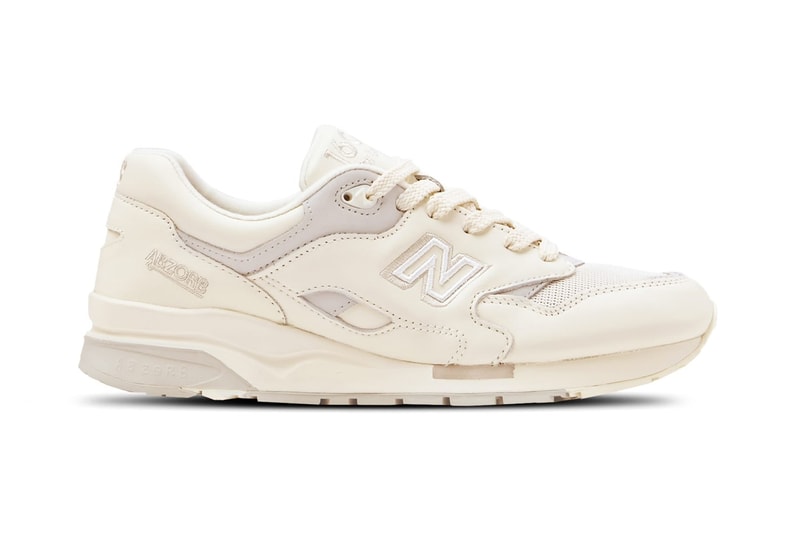 While many of New Balance's initiatives and launches emphasize the brand's native western market, several silhouettes have found success elsewhere in the world. Both the 237 and 1600 continue to see exclusive releases in Japan. In continuation of this, the 1600 has been outfitted in an ivory colorway for New Balance Japan.
In its newest look, the New Balance 1600 finds itself in various off-white shades with gray accents. Its upper favors a classic New Balance combination of smooth leather, nubuck and suede as its various colors blend seamlessly throughout the sneaker. Visible branding includes the iconic "N" logo embroidered on each side in white and ivory while the silhouette's typical New Balance 1600 text can be spotted at the tongue. The heel shows off New Balance's logo while ABZORB text on the sides nod to the sneaker's sole unit that features ABZORB cushioning alongside ENCAP technology, focusing on shock absorption and comfort.
The initial release of this ivory-clad New Balance 1600 has taken place via New Balance Japan where pairs are available now at a price of ¥19,800 JPY (approx. $142 USD). As for an international release, New Balance has yet to indicate whether it will land on shelves in other regions.
For more New Balance news, another "Beef and Broccoli" colorway has been revealed for the fall, this time on the New Balance 580.
Click here to view full gallery at HYPEBEAST
Home, Heritage and Heat: How Walter's Built Its Legacy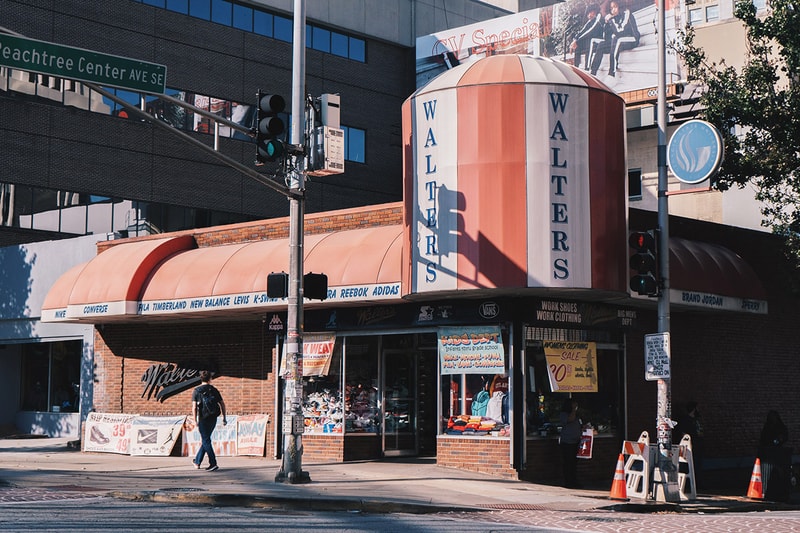 On the corner of Decateur and Peachtree, steps away from Georgia State University's campus, stands a brick building with a welcoming white-and-red striped awning. It's Walter's, an Atlanta sneaker institution that's been in business for seven decades.
The story of Walter's begins with Walter Strauss, who fled to America to escape the brutality of Nazi Germany. During World War II, he enlisted in the military as a German map interpreter, and after the war, made a living by working in shoe warehouses in Atlanta. Eventually, he actualized his dream to open his own establishment — and Walter's Clothing was born.
While Strauss' operation opened its doors during the apex of the civil rights movement in 1952, he didn't allow the pressures of segregation and discrimination to hinder his overall vision. His compassionate nature was a product of witnessing the cruelties of oppression first-hand in Nazi Germany. With a burning desire to create change in America, he refused to abide by the Jim Crow regulations that Southern states imposed and made his storefront a place of refuge by embracing the Black community both as clients and employees. Strauss and his wife Estelle even implemented a work-based learning program where they aligned with local high schools of the Atlanta, Fulton, and DeKalb counties to create job opportunities for African American students — a program that's still running today. "Back then, Black people couldn't just walk into any store to try on clothes, let alone find a retail job", Leshaun Burke, who's worked at Walter's for 27 years, told Hypebeast. "Atlanta was at the center of that intense period in history, but Walter's was always there for the people."
As the '90s and early '00s rolled around, Walter's influence amplified thanks to co-signs from high-profile customers. Outkast ("Slum Beautiful"), Young Jeezy ("I Got Money") and Gucci Mane ("Both Eyes Closed") name-dropped the store in songs, and footage of the store in Jermaine Dupri's "Welcome to Atlanta" music video catapulted it into mainstream media. "Future grew up not too far from here and would always pay us a visit", Burke said. "Big Boi and Andre 3000 have dropped in to pick up adidas sweatsuits. Rick Ross, 21 Savage, Dave Chappelle, DJ Khaled and Migos have shopped here. Everybody has rolled through."
"You had to find places that had that flavor, and we made sure to be that for the community."
Walter's was also one of the first retailers to pioneer a strategy that entailed supplying a versatile range of products that evolved to meet its clientele's changing demands and tastes.. Initially, the offerings were workwear-centric. Brands like Dickies and Levi's were consistently in stock, ensuring that construction workers who were redeveloping the city during the '50s and '60s had a go-to shopping hub. During the '80s, adidas sneakers and tracksuits spiked in popularity thanks to hip-hop collective Run–D.M.C. Walter's was on top of that trend too, quickly becoming the only place in Atlanta to offer unique colorways. It also became one of the original retailers to have a Jordan Brand account in '85, and that relationship remains intact today. "Back then, you couldn't just go to the mall and pick up an adidas tracksuit or a pair of Forums", Burke said. "You had to find places that had that flavor, and we made sure to be that for the community."
Notable sportswear brands have also honored Walter's cultural influence through collaborations on special roll outs. In 2008, Jordan Brand hand-picked 23 shops in the US to receive the Air Jordan 23 and Walter's was one of them. It was also one of two retailers to receive the limited-to-700-pair Air Jordan 1 High "Satin Royal Blue" — the other being Active Athlete in Houston, Texas, another original Jordan Brand retailer. Additionally, New Balance linked up with the downtown ATL store and DJ Mars in 2012 to produce a Christmas-themed New Balance 574 "Holiday Pack." Today, Walter's stocks a plethora of offerings that cater to customers both old and new. Those that have been giving business to the store for decades can still come in to pick up a Kangol Bermuda Hat, FILA kicks or a full Three Stripes sweatsuit. Air Jordans, Nike Dunks, New Balance lifestyle models and Reebok Classics are available for the Gen-Z sneaker die-hards as well. There's something for everybody, and all are welcome.
"People come to us all the time saying how they want to build a store like Walter's, but it's impossible because we've put in years of forging strong relationships and trust with our customers to come here."
In a world where resell platforms, consignment shops and modern boutiques dominate the marketplace, you might not expect an older enterprise like Walter's to stay afloat, let alone flourish. However, Walter's prestige is earned: it comes from generations of relationship building that newer boutiques can't match up with. Tier zero retailers can flex their state-of-the-art locations across the globe, receive every Jordan collab and have celebrities in their lookbooks, but at the end of the day, they can't earn the kind of legacy Walter's has as it can only be accrued with time. Its customers aren't just the older heads that have been shopping there for years: it's also their children and grandchildren, to whom they've passed down their stories, experiences and connections. "Times change," said Burke. "We've understood the industry transitions, but we don't worry about what everybody else does because we know what works for us. People come to us all the time saying how they want to build a store like Walter's, but it's impossible because we've put in years of forging strong relationships and trust with our customers to come here."
Strauss' passionate, "family first" mentality has allowed Walter's to blossom in an ever-evolving market and will continue to be a calling card for its workers as it strives to remain a dominant industry staple for the next 70-years. It's proof that mom-and-pop shops can still hold their charm and even outlast big box retailers when it places community and products at the fore.
Walter's walked so that modern streetwear and footwear boutiques can run, and it's not stopping any time soon.
Click here to view full gallery at HYPEBEAST
Nike Presents Collaborative SOULGOODS Dunk High Collection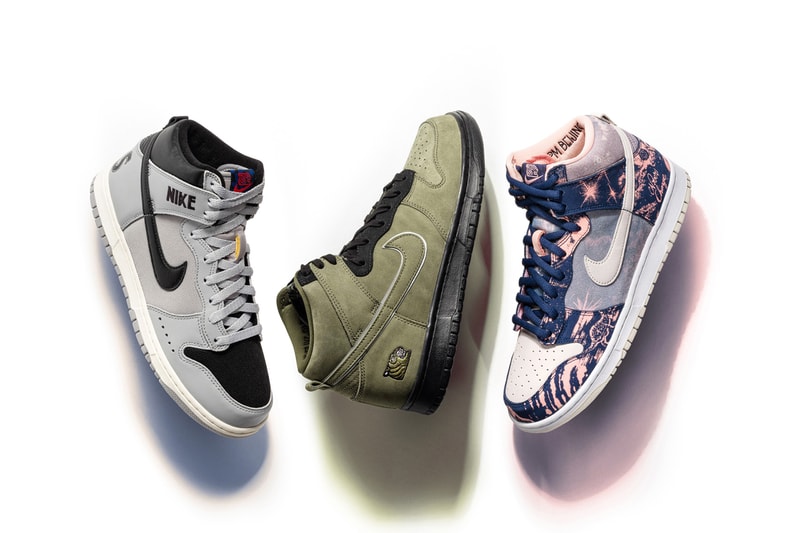 First discovered in July, SOULGOODS has worked with Nike on not just one Dunk High, but a collection of three colorways for the legendary high-top. The Beijing-based retailer is no stranger to the Swoosh, having previously collaborated with its Converse subsidiary in 2021. Now, the duo pays tribute to culture, including basketball, from the '80s, '90s and '00s with each of its collaborative Dunk High colorways.
The "'80s" look arrives in a primarily gray finish with a design that draws inspiration from what the SOULGOODS team thinks a Chinese national basketball team shoe would have looked like in the '80s. As for its olive green "'90s" counterpart, the collaborative pairing revisited one of their favorite classic albums in Chinese rock history and paired it with an East Coast hip hop influence with details such as its embroidered tiger logo pulling from the Wu-Tang Clan Dunks from '99. Lastly, the newly revealed "'00s" colorway arrives in a presentation packed with history as it recalls SOULGOODS co-founder Wu Yue's childhood in Beijing, featuring personal and traditional symbols and talismans throughout its patchwork design.
For those interested in purchasing a pair, the first SOULGOODS x Nike Dunk High is set to release in November with the remaining colorways landing on shelves by the end of the year. Stay tuned as specific release dates are announced by the Swoosh ahead of the collection's launch.
 

View this post on Instagram

 
In other footwear news, the much-anticipated Concepts x Nike SB Dunk Low "Orange Lobster" has been officially revealed by Nike.
Click here to view full gallery at HYPEBEAST