Sole Mates: Troy Douglass and the Air Jordan 4 "Cool Grey"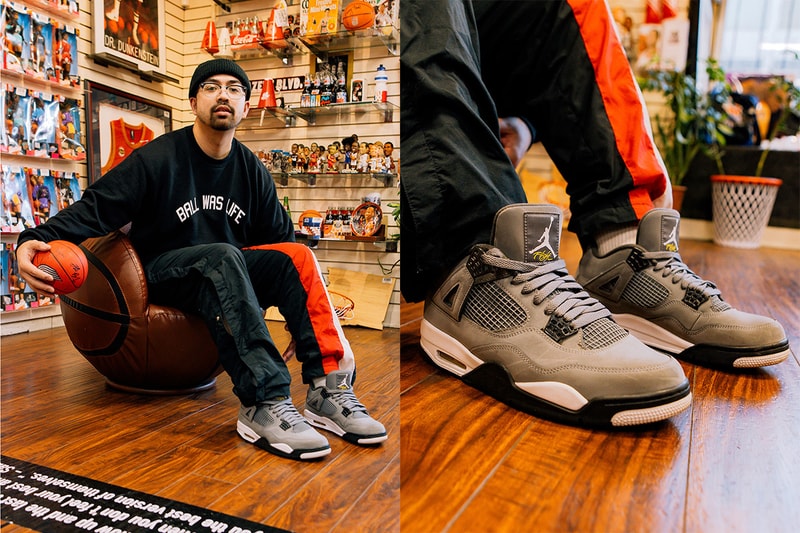 "I may be past my prime, but I'll still give you buckets!" This captivating sentence graces the top of Ball Was Life's Instagram page — a shop based in Portland, Oregon that regularly stocks meticulously curated vintage clothing, retro sports jerseys and hard-to-find sneaker samples. It's a cheeky motto that Troy Douglass — the store's owner and founder — came up with to express his profound appreciation for the sport of basketball, and it also serves as a metaphor for providing his consumers with a memorable shopping experience.
For Douglass, sneakers are more than just objects that you put on your feet to get you from point A to point B. They're treasures, packed with nostalgic stories that are associated with all of his favorite NBA players and memories, and innovations that he praises for their unique design elements. He wasn't necessarily the kid who grew up buying Jordans every Saturday, but he was the die-hard hoops fanatic that always stayed close to the culture, and this deep-rooted affinity for the sport has led him to start his own clothing brand, open up two storefronts, and build lasting relationships with those in the Greater Portland community.
HYPEBEAST sat down with Douglass to discuss what it takes to run a successful vintage shop, what rare 1-of-1 kicks he's seen come into his shop, his love for the Air Jordan 4 and more.
HYPEBEAST: Who or what got you into sneakers?
TD: The game of basketball is what first introduced me to sneakers. It was the love of the game, I was into all of the intricacies of the game, the details, the footwork etc., and as I started to develop that passion for the game, my obsession with sneakers kind of grew with that.
As a kid, I used to nerd over basketball cards and other basketball memorabilia, and now that love has definitely translated into sneakers. I always love tying in sneakers with big basketball moments such as the Air Jordan 14 "Last Shot" and how Jordan rocked those in his last game with the Bulls. That type of stuff is what I nerd out on and has allowed my love for sneakers to show in an authentic way.
I know you were born and raised in Portland, what are some of your fondest memories growing up watching the Portland Trailblazers?
I was born in '89 so the late 90s were my sh*t. The Rasheed Wallace era was crazy. A lot of us little guys really looked up to Damon Stoudamire. A memory I'll never forget is Game 7 of the 1999-2000 Western Conference playoffs where we lost to the Lakers with Shaq and Kobe. Blazers fans always come into the shop and we always talk about it. Portland is an emotional city man.
How would you describe sneaker culture growing up in Portland?
It's definitely strong here. Growing up, all my friends out here were pretty much into sneakers. It's crazy because out here we're literally next door neighbors to Nike's headquarters and adidas' headquarters and that's so crucial to my business. I have a ton of crazy kicks now, some of which are adidas Kobe 1 samples that I probably wouldn't have been able to get if I was based out somewhere like the Midwest. And because we're so close and so many people are into the culture here, we always see 1-of-1 or 1-of-3 samples get brought into the shop.
What would you say is the craziest pair that someone has brought in?
The one that springs to my mind is this unreleased adidas Kobe 1. It was a wild red and black colorway that had an almost all-over tie-dye type pattern to it with block sock liners and hot pink laces. My homie from Index Portland usually helps me authenticate items like that.
"I wanted something clean but also something that had nodes of youthfulness and spoke to a love for the game."
Would you say that Portland has sort of an omnipresent sneaker silhouette?
I would say the Nike Air Force 1 in either white or black, depending on what part of the city you live in. That shoe has just remained consistent within the communities out here since the 2000s.
Give me some back story on how Ball Was Life was ideated and brought to life?
It was an idea that popped up at the park. I used to host what I called "Hoops in the Park" which was essentially a glorified pickup basketball game. We used a love for basketball to bring creatives and entrepreneurs and go-getters to just hoop together and us, being out of shape playing, had this running joke that we always said, "ball was life" and we'd keep laughing about it. I'm pretty sure it was me who said it first and one week I bought the domain name for it because I knew it was special. I wanted something clean but also something that had nodes of youthfulness and spoke to a love for the game. In 2017 I thought it was going to be a clothing brand but it ended up turning into a store just by opportunity.
"I would say that we're definitely in the prime of vintage but I think that it will continue to evolve over time. As a shop, we're in the business of good memories and nostalgia."
How did it evolve from just being a clothing brand into a vintage shop?
I actually have another store called Cultural Blends and that took on an evolutionary process of its own because it went from being a headquarters for all of the apparel that I printed and sold to me gradually adding vintage and sports vintage. From there it started to really take off and then I eventually added sneakers into the mix, so Ball Was Life just followed that same cadence.
What is the criteria for products that are sold in your store?
We just take a good look at the vintage stuff. I would say it could even be newer basketball stuff, it doesn't really matter because we try to bridge the gap between old and new. As long as it's basketball related as long as it's cool, but we'll take mostly vintage stuff from the 90s or early 2000s, that's our jam.
What role do you think vintage has in streetwear/sneakers right now and do you think it'll ever die out?
Yes and no. I would say that we're definitely in the prime of vintage but I think that it will continue to evolve over time. As a shop, we're in the business of good memories and nostalgia. When people walk into our stores, they're always so taken back by it because it's such a basketball fan's dream and that's so important especially in the last couple of years because of COVID. We've been taken out of that reality and a better time. I don't see the nostalgia factor of vintage dying out. You look at famous vintage destinations such as the Rose Bowl Flea Market and you see how strong the culture is.
"There's something about the overall silhouette that screams funky, screams hip-hop and screams "this is me."
What about the Air Jordan 4 resonates with you?
It's the nostalgic feeling for me. The 4's dropped in 1989 and I was born in 1989 and I'm a big fan of when things line up in that sense. I really like to dive into the design of shoes too, and I just really love how the Air Jordan 4 looks aesthetically. I haven't really heard anyone talk about this before but the wings essentially look like the top part of a 4 and I love that element. There's something about the overall silhouette that screams funky, screams hip-hop and screams "this is me." Another thing is that I have wide island feet and models like the Air Jordan 1 are slightly too narrow for me but the 4's fit great.
What makes the Air Jordan 4 "Cool Grey" specifically so special to you?
For awhile it was the "Cool Grey" that was the only pair of Jordans that I owned so I definitely value this one and as you can see I beat the sh*t out of it. I was fortunate enough to pick these up for retail at a Dick's Sporting Goods surprisingly and fell in love with them once I saw them on the shelves. I wore these everywhere. I wore them on the court and at school.
On top of that I just love the color-blocking of these. I've always been a fan of greys, and this is the perfect blend of grey, black and white, you just can't go wrong with it.
Any other favorite AJ 4s outside of this colorway?
I'd say the "Black Cat," "Bred" and the original "Oreo" colorways.
For someone who is hoping to open up a vintage shop one day, what's the best advice you can give someone who is looking to start?
Definitely make sure that you have your influx of inventory. You want to make sure of this because you'll be pushing through that as fast as possible and you want to always have something left in the holster. Additionally, have your own inventory that you source for low so you have high profit margins and then supplement the store with a handful of vendors that are trusted and who you have good human relationships with so they can consign stuff at the shop and they can bring their own energy and their own people into the shop.
Why are sneakers and the stories they hold important to you?
It's the history of the game that's most important. I'm such a huge basketball fan at heart and the sport and sneakers go hand in hand for me. There's just so much context between players, their stories and the shoes they rock that I'm super passionate about and will continue to follow.
Click here to view full gallery at HYPEBEAST
New Balance Equips the 1600 in Ivory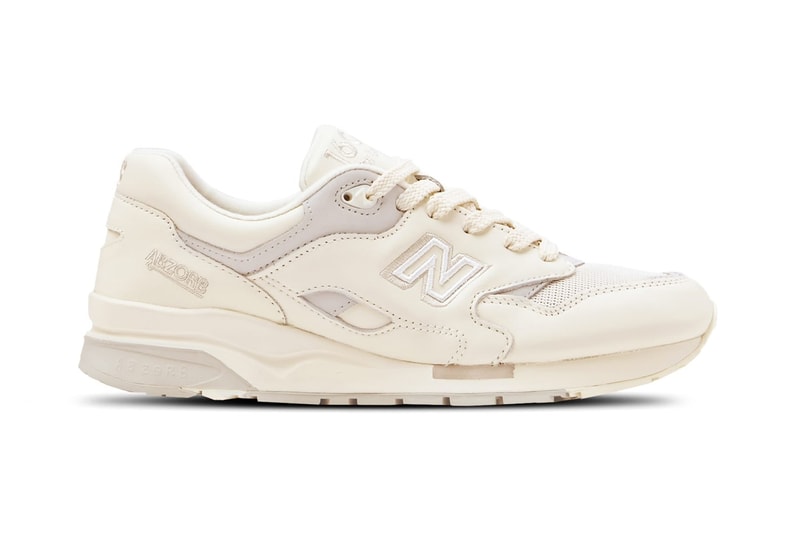 While many of New Balance's initiatives and launches emphasize the brand's native western market, several silhouettes have found success elsewhere in the world. Both the 237 and 1600 continue to see exclusive releases in Japan. In continuation of this, the 1600 has been outfitted in an ivory colorway for New Balance Japan.
In its newest look, the New Balance 1600 finds itself in various off-white shades with gray accents. Its upper favors a classic New Balance combination of smooth leather, nubuck and suede as its various colors blend seamlessly throughout the sneaker. Visible branding includes the iconic "N" logo embroidered on each side in white and ivory while the silhouette's typical New Balance 1600 text can be spotted at the tongue. The heel shows off New Balance's logo while ABZORB text on the sides nod to the sneaker's sole unit that features ABZORB cushioning alongside ENCAP technology, focusing on shock absorption and comfort.
The initial release of this ivory-clad New Balance 1600 has taken place via New Balance Japan where pairs are available now at a price of ¥19,800 JPY (approx. $142 USD). As for an international release, New Balance has yet to indicate whether it will land on shelves in other regions.
For more New Balance news, another "Beef and Broccoli" colorway has been revealed for the fall, this time on the New Balance 580.
Click here to view full gallery at HYPEBEAST
Home, Heritage and Heat: How Walter's Built Its Legacy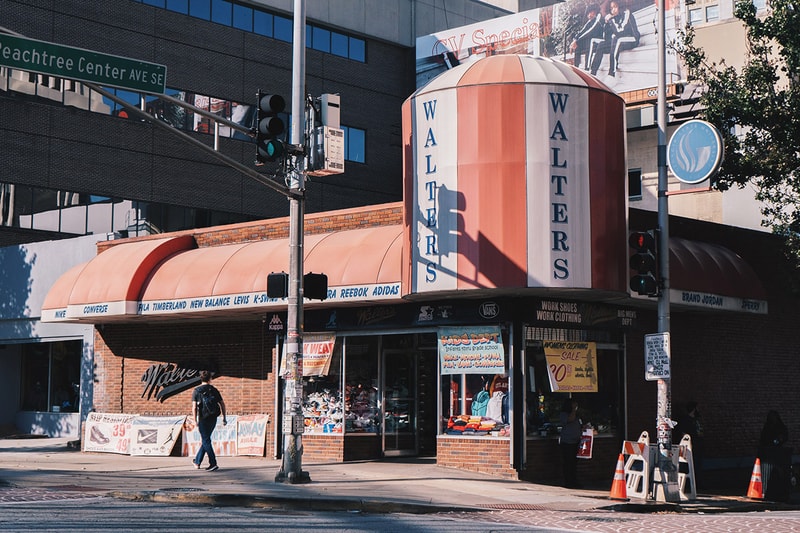 On the corner of Decateur and Peachtree, steps away from Georgia State University's campus, stands a brick building with a welcoming white-and-red striped awning. It's Walter's, an Atlanta sneaker institution that's been in business for seven decades.
The story of Walter's begins with Walter Strauss, who fled to America to escape the brutality of Nazi Germany. During World War II, he enlisted in the military as a German map interpreter, and after the war, made a living by working in shoe warehouses in Atlanta. Eventually, he actualized his dream to open his own establishment — and Walter's Clothing was born.
While Strauss' operation opened its doors during the apex of the civil rights movement in 1952, he didn't allow the pressures of segregation and discrimination to hinder his overall vision. His compassionate nature was a product of witnessing the cruelties of oppression first-hand in Nazi Germany. With a burning desire to create change in America, he refused to abide by the Jim Crow regulations that Southern states imposed and made his storefront a place of refuge by embracing the Black community both as clients and employees. Strauss and his wife Estelle even implemented a work-based learning program where they aligned with local high schools of the Atlanta, Fulton, and DeKalb counties to create job opportunities for African American students — a program that's still running today. "Back then, Black people couldn't just walk into any store to try on clothes, let alone find a retail job", Leshaun Burke, who's worked at Walter's for 27 years, told Hypebeast. "Atlanta was at the center of that intense period in history, but Walter's was always there for the people."
As the '90s and early '00s rolled around, Walter's influence amplified thanks to co-signs from high-profile customers. Outkast ("Slum Beautiful"), Young Jeezy ("I Got Money") and Gucci Mane ("Both Eyes Closed") name-dropped the store in songs, and footage of the store in Jermaine Dupri's "Welcome to Atlanta" music video catapulted it into mainstream media. "Future grew up not too far from here and would always pay us a visit", Burke said. "Big Boi and Andre 3000 have dropped in to pick up adidas sweatsuits. Rick Ross, 21 Savage, Dave Chappelle, DJ Khaled and Migos have shopped here. Everybody has rolled through."
"You had to find places that had that flavor, and we made sure to be that for the community."
Walter's was also one of the first retailers to pioneer a strategy that entailed supplying a versatile range of products that evolved to meet its clientele's changing demands and tastes.. Initially, the offerings were workwear-centric. Brands like Dickies and Levi's were consistently in stock, ensuring that construction workers who were redeveloping the city during the '50s and '60s had a go-to shopping hub. During the '80s, adidas sneakers and tracksuits spiked in popularity thanks to hip-hop collective Run–D.M.C. Walter's was on top of that trend too, quickly becoming the only place in Atlanta to offer unique colorways. It also became one of the original retailers to have a Jordan Brand account in '85, and that relationship remains intact today. "Back then, you couldn't just go to the mall and pick up an adidas tracksuit or a pair of Forums", Burke said. "You had to find places that had that flavor, and we made sure to be that for the community."
Notable sportswear brands have also honored Walter's cultural influence through collaborations on special roll outs. In 2008, Jordan Brand hand-picked 23 shops in the US to receive the Air Jordan 23 and Walter's was one of them. It was also one of two retailers to receive the limited-to-700-pair Air Jordan 1 High "Satin Royal Blue" — the other being Active Athlete in Houston, Texas, another original Jordan Brand retailer. Additionally, New Balance linked up with the downtown ATL store and DJ Mars in 2012 to produce a Christmas-themed New Balance 574 "Holiday Pack." Today, Walter's stocks a plethora of offerings that cater to customers both old and new. Those that have been giving business to the store for decades can still come in to pick up a Kangol Bermuda Hat, FILA kicks or a full Three Stripes sweatsuit. Air Jordans, Nike Dunks, New Balance lifestyle models and Reebok Classics are available for the Gen-Z sneaker die-hards as well. There's something for everybody, and all are welcome.
"People come to us all the time saying how they want to build a store like Walter's, but it's impossible because we've put in years of forging strong relationships and trust with our customers to come here."
In a world where resell platforms, consignment shops and modern boutiques dominate the marketplace, you might not expect an older enterprise like Walter's to stay afloat, let alone flourish. However, Walter's prestige is earned: it comes from generations of relationship building that newer boutiques can't match up with. Tier zero retailers can flex their state-of-the-art locations across the globe, receive every Jordan collab and have celebrities in their lookbooks, but at the end of the day, they can't earn the kind of legacy Walter's has as it can only be accrued with time. Its customers aren't just the older heads that have been shopping there for years: it's also their children and grandchildren, to whom they've passed down their stories, experiences and connections. "Times change," said Burke. "We've understood the industry transitions, but we don't worry about what everybody else does because we know what works for us. People come to us all the time saying how they want to build a store like Walter's, but it's impossible because we've put in years of forging strong relationships and trust with our customers to come here."
Strauss' passionate, "family first" mentality has allowed Walter's to blossom in an ever-evolving market and will continue to be a calling card for its workers as it strives to remain a dominant industry staple for the next 70-years. It's proof that mom-and-pop shops can still hold their charm and even outlast big box retailers when it places community and products at the fore.
Walter's walked so that modern streetwear and footwear boutiques can run, and it's not stopping any time soon.
Click here to view full gallery at HYPEBEAST
Nike Presents Collaborative SOULGOODS Dunk High Collection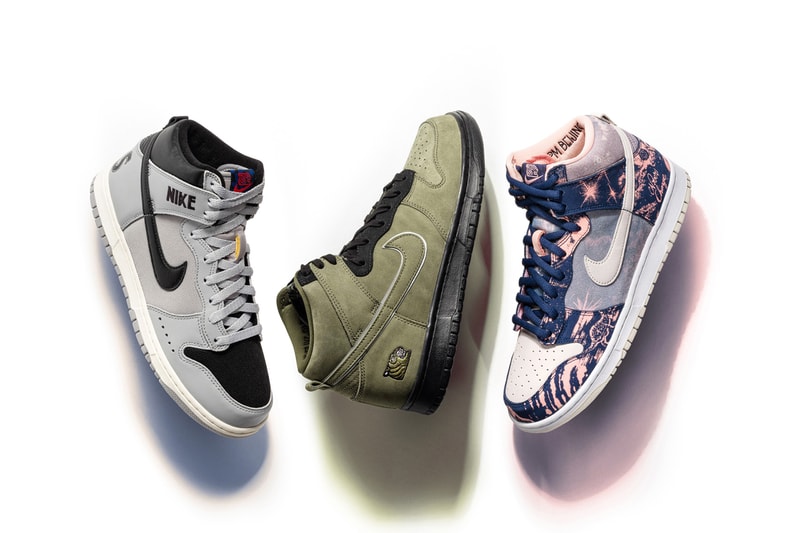 First discovered in July, SOULGOODS has worked with Nike on not just one Dunk High, but a collection of three colorways for the legendary high-top. The Beijing-based retailer is no stranger to the Swoosh, having previously collaborated with its Converse subsidiary in 2021. Now, the duo pays tribute to culture, including basketball, from the '80s, '90s and '00s with each of its collaborative Dunk High colorways.
The "'80s" look arrives in a primarily gray finish with a design that draws inspiration from what the SOULGOODS team thinks a Chinese national basketball team shoe would have looked like in the '80s. As for its olive green "'90s" counterpart, the collaborative pairing revisited one of their favorite classic albums in Chinese rock history and paired it with an East Coast hip hop influence with details such as its embroidered tiger logo pulling from the Wu-Tang Clan Dunks from '99. Lastly, the newly revealed "'00s" colorway arrives in a presentation packed with history as it recalls SOULGOODS co-founder Wu Yue's childhood in Beijing, featuring personal and traditional symbols and talismans throughout its patchwork design.
For those interested in purchasing a pair, the first SOULGOODS x Nike Dunk High is set to release in November with the remaining colorways landing on shelves by the end of the year. Stay tuned as specific release dates are announced by the Swoosh ahead of the collection's launch.
 

View this post on Instagram

 
In other footwear news, the much-anticipated Concepts x Nike SB Dunk Low "Orange Lobster" has been officially revealed by Nike.
Click here to view full gallery at HYPEBEAST